Which corset for me (with plus sized corsets highlighted)?
Posted on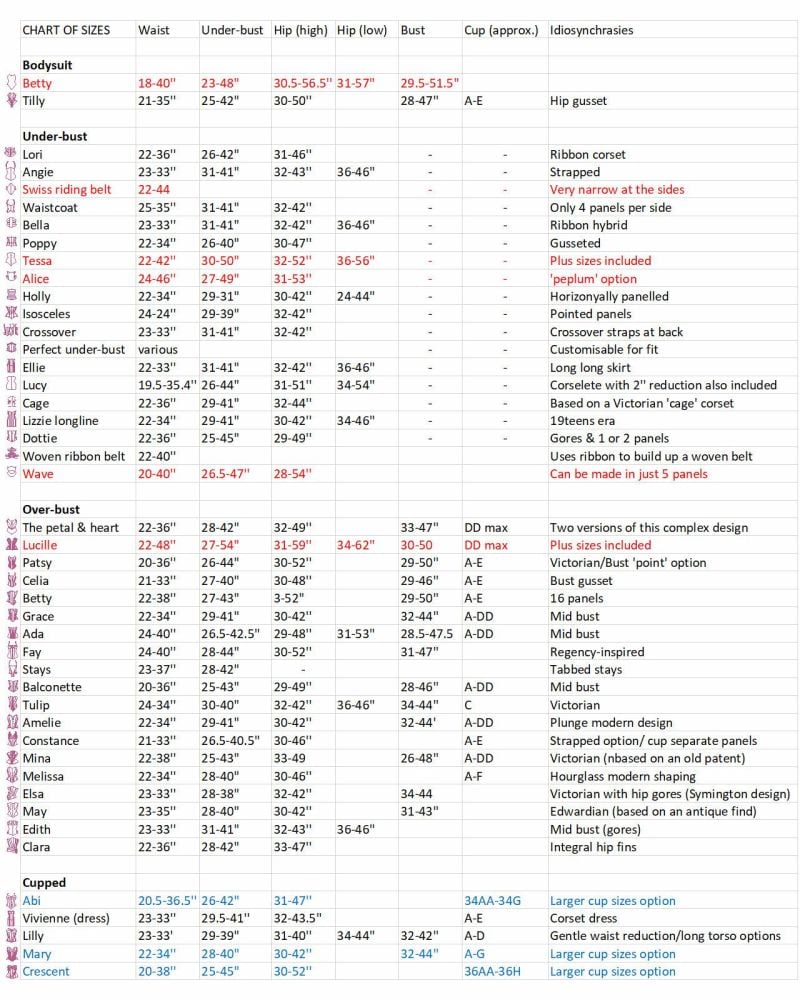 This is a question I am often asked. I have so many different designs published and available in my Etsy shop that I think a lot of clients tend to get overwhelmed when choosing! It has got to the stage where I am forgetting the attributes of each design having done so many, so I have created this spreadsheet with little thumbnail pics of the designs for my own reference more than anything, however this list may also help new patrons decide if they would like to procure any to add to their collection. The red designs are plus sizes and the blue designs have large cup sizes available.
Finding the ultimate design for your particular shape and attributes is one of trial and error. I think I had made at least 20 corsets before I found my ultimate comfort and shaping - trying all sorts of designs really opened my eyes to the craft of corsetry and gave me a thorough background knowledge that enabled me to start drafting them and creating commercial patterns. One of the reasons I published my ten pattern e book in January '19 was to make available a range of patterns that covered quite an array of different designs and offered value for money, especially for beginners who might be concerned about the difficulty level of a particular design. The expense of patterns can be off-putting and this was an attempt to arm a keen corset maker with the tools to learn all the different construction techniques and make many different designs, hopefully with the aim of finding their perfect one.
You can sense the frustration and impatience of new makers on many of the Facebook groups - they want immediate results! You may be a natural and learn quickly but there is a lot to get through in the corsetry learning curve and anyone wanting to progress shouldn't be inhibited and should just get stuck in. What is there to lose other than time and fabric? It amazes me how scared and worried many makers seem to be - yes there will be failures, disasters and embarrassing results, but who cares? Practise, practise, practise is the only way.
Anyway, regarding the topic of this post, 'which corset is best for me' - I've hopefully driven home the point of trying everything and doing the thing (over and over!) to arrive at THE ONE, but there are a few pointers that may help choose the ones to start you off;
1. Look at the measurements - some may hone in on your measurements more than others - this is a good start, especially if you are not accomplished at fitting/changing patterns (although this will usually always be necessary with a garment like a corset). Hopefully my 'top and tails' variations also help in getting you to a closer fit before starting. 2. Start simply. Choose one with only a few panels to get you started - and an under-bust so you don't have that pesky bust fitting to do. Don't go for gussets, gores or cupped designs until you master the basics.
3. One of the most difficult parts of a corset to fit well is the bust - try a standard over-bust before attempting a cupped design. Most makers believe that a standard over-bust is better for larger busts - the busk is likely to slightly curve over the bust whereas a cupped design more often than not has the top of the busk snapping against the sternum with the cups creating their own 'architecture' above the main corset body with the help of bra wires and bra moulds or foam fabric. They're tricky and definitely not for beginners.
4. Victorian, Edwardian (S-bend), stays, teens era, modern? During these historical eras, all body shapes were padded and squished into those designs (the fashionable silhouette of the time), again it's about trying them out as it is more a feature of anatomy vs. comfort - some people love the s-bend shaping and how it forces their stance a little forward, whereas some people find that uncomfortable. Talking anatomy - if you have a pronounced lumbar curve you may prefer a curved centre back - some of my patterns include this as an option (Lucy for instance).
And remember: toile, toile, and toile again. Numerous toiles are a pain but necessary and if it isn't working for you don't waste your expensive fabric, just move on to another design. Also, don't be scared to alter the pattern. Most patterns have instructions about how to do this. If you differ wildly to the standard measurements offered on the pattern you will definitely have to amend it - your toile will indicate what subsequent changes are needed and whether the changes you have made work.